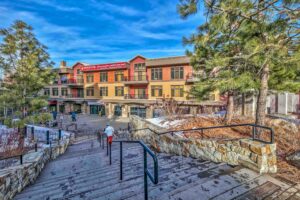 The Residence at Northstar is a private residence club, located in the heart of Northstar's Village. The Club consists of 18 different condominiums (12 three-bedrooms and 6 four-bedrooms) all within the same building
Ownership
The Residence at Northstar is a "private residence club" which means each owner is deeded to a 1/7th share of either a three-bedroom or four-bedroom condominium. Each residence is fully furnished and decorated, so that while you are deeded to a specific residence, you may use any of the size you own. The kitchens are fully appointed too with stainless steel appliances, granite countertops, hard-wood cabinetry, and of course all the condiments and spices you should expect.
Our concierge and bell-staff are here for you to assist with your luggage, make dinner reservations, and many other services. Likewise, they serve up fantastic breakfasts 7 days-a-week and Happy Hour refreshments 5 days-a-week.
Usage
Our owners enjoy unlimited access to The Residence at Northstar. Yes, you read that correctly, unlimited access. To keep the process fair though, the Club allows owners to pre-book reservations (to accommodate travel and vacation planning) in addition to spontaneous access throughout the year.
Pre-planned weeks (two for the summer season AND two for the winter season)
Long-term space availability weeks (one each for the summer & winter seasons)
Short-term space availability days (unlimited, but based on vacancy)
Costs
The Residence at Northstar has allocated costs in a manner similar to the reservations process – with an eye towards fairness.
Ownership Costs: Just like your home, the Club has costs associated with ownership (e.g. property taxes, insurance, utilities, maintenance, and reserves). As this property has common areas, we add management costs. These are all paid quarterly via an Home Owners' Association fee.
Usage Costs: When you're actually "in-residence," the Club assess per diems to cover the costs of daily housekeeping services and a gratuity to our bell staff. These are only paid upon your departure.
By separating the Usage from the Ownership costs, the Club keeps dues manageable and fair in their allocation. Our owners don't pay for services they don't receive.
Links
The Residence at Northstar video
The Residence at Northstar "Tri-fold" brochure
The Residence at Northstar "Overview" brochure
The Residence at Northstar "Virtual Tour"